Description
2024 Ships of The Seaway Calendar
I've teamed up with The Shipwatcher Mike Folsom to bring something special to all the Shipwatchers out there..

UPDATE: 12/01/2023 CALENDARS ARE NOW IN STOCK AND ARE SHIPPING AS ORDERED!
FREE shipping to USA
12 Month 2024 SHIPS OF THE SEAWAY Calendar.. The calendar is 11 x 8.5 format
Featuring stunning Ship images by local Photographer Johnny Truesdell this is the Official Calendar of the SEAWAY SHIPWATCHERS Network. Many of the photos are spectacular aerial shots taken using drones. These make great gifts and by purchasing you are also helping to support the artist.
Discounts on multiple copies..
PLEASE NOTE: EACH INDIVIDUAL ORDER WILL ONLY BE SHIPPED TO ONE PHYSICAL ADDRESS.. IF YOU WOULD LIKE ITEMS SHIPPED TO DIFFERENT ADDRESSES PLEASE PLACE MULTIPLE SEPARATE ORDERS OR CONTACT ME REGARDING THE ADDITIONAL SHIPPING COSTS. THANK YOU.
CANADIAN CUSTOMERS, PLEASE NOTE: THIS CALENDAR HAS U.S. HOLIDAY INFORMATION.
YOU ARE WELCOME TO ORDER, BUT I DO NOT OFFER A CANADIAN-SPECIFIC VERSION.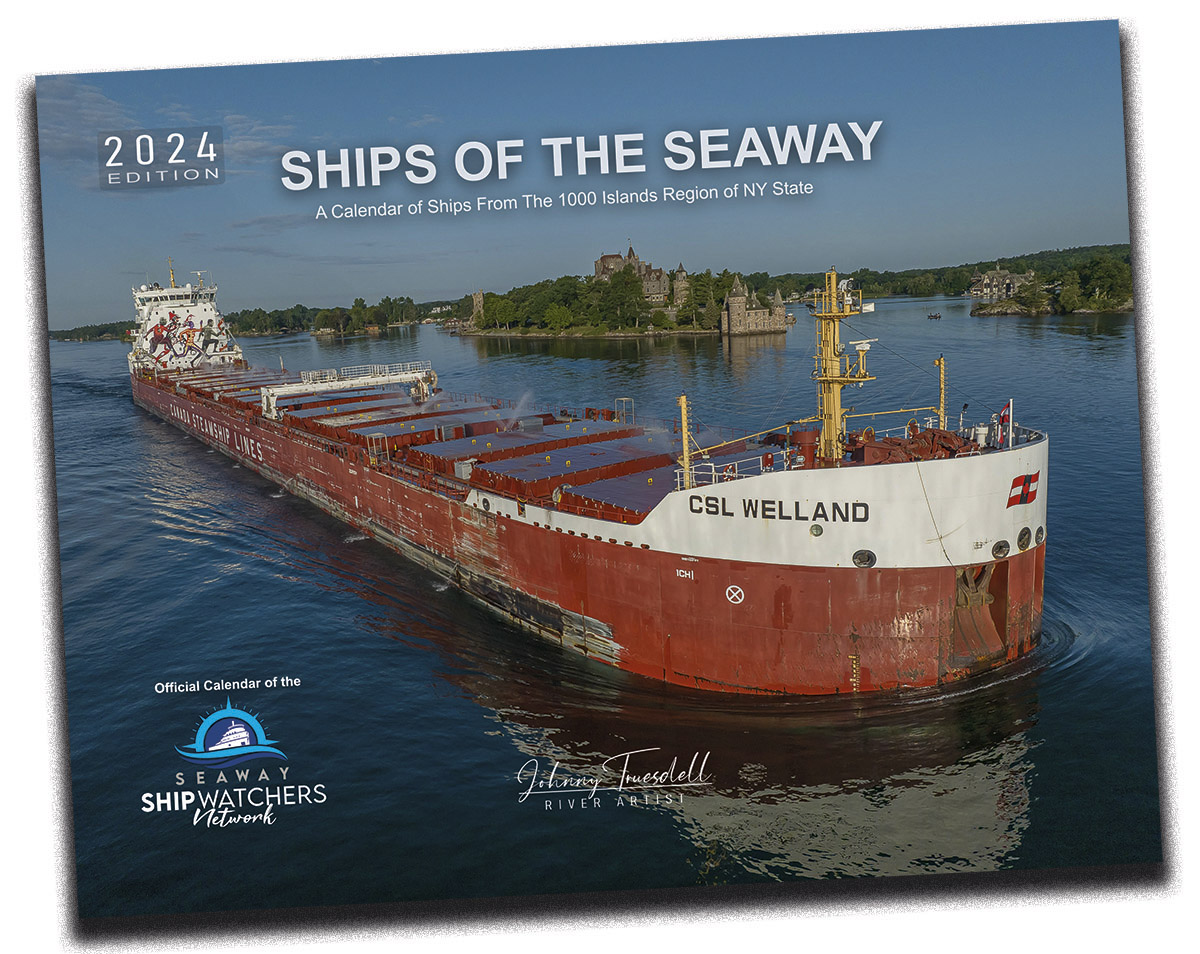 Ships included.. CSL Welland, Algonova, Griffon, Federal Caribou, CSL St-Laurent, ALE Bulk Carrier, Happy River, Federal Dart, Maxima, Algoma Harvester, Wigeon, BBC Oregon, and the Ojibway.
Images of each month can be seen in the video below..



---
ALSO AVAILABLE THIS YEAR! MY ANNUAL THOUSAND ISLANDS CALENDAR!!
The image below is the Tentative cover. You can add it to your SHIPS OF THE SEAWAY Calendar order if you like. Just Select it from the other drop-down menu and choose the desired quantity.