Description
A Calendar of Stunning Images from the 1000 Islands Region of NY State by local Photographer Johnny Truesdell. These images are mainly from and around Alexandria Bay, NY.
NOTE: This item is (IN STOCK) and ready to ship..
This Calendar is 8.5″x11″, is glossy, has fairly thick pages, and is pretty much the Cadillac of Calendar quality..
Price is $25.00 Per Calendar including FREE shipping to the USA and $5.00 Shipping to Canada. They can also be picked up locally in Alexandria Bay, NY.
NOTE: Canadian customers will need to choose $5.00 Shipping on the CHECKOUT screen to get the special rate on just calendar purchases.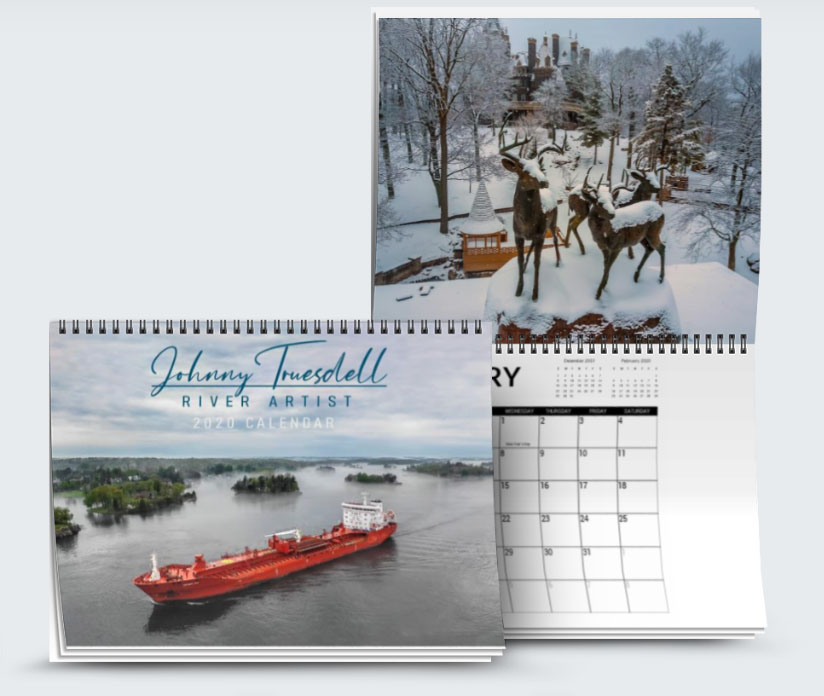 Snow Covered Stags at Boldt Castle Entry Arch / Snow Covered Boldt Rooftop Looking at Boldt Yacht House / Winter at Tibbets Point Lighthouse / Sisters Island Lighthouse

Magic Sunset At Boldt Castle / Adfines Sea Passing Boldt In Foggy Conditions / Fireworks at Boldt Castle, Italian Gardens at Boldt Castle..


Antique Boats At The T.I. Bridge / Singer Castle on Dark Island / Snow Covered Boldt Yacht House / Kaministiqua Ship Passing Snow Covered Boldt Castle